INSPIRATION FOR THE PRINT:
Diamond Palms Print is inspired by the crisp outline of palm trees mixed with 1960's garden pavilions and colonial-style garden houses.
I used digital illustration for this pattern. Keep reading to see the step by step process & progress screenshots.
The print features two patterns under the main palm tree motifs – a white lattice design and a diamond geometric pink and white design. Both remind me of the intricate detailing and bamboo lattice structures that were a part of retro pool villas and garden pergolas.
I chose a sky-blue for the background, white and pink for the lattice & diamond designs, and shades of pale turquoise, blue and off-whites for the featured bunches of palm trees.
HOW PRINT WAS DESIGNED :
1. I drew the palm tree sprigs in Adobe Illustrator as part of another pattern shown below.
2. I wanted a background for the palms, and dug up a lattice pattern I'd been working on – this was before I knew the tricks of repeat-print making and had already made it too complex to untangle!
3. I added the palm trees over the lattice pattern, but it was still missing something so I sandwiched a diamond pattern in between, which echoed the triangle shapes of the palm tips.
Below is a screenshot of choosing the colours.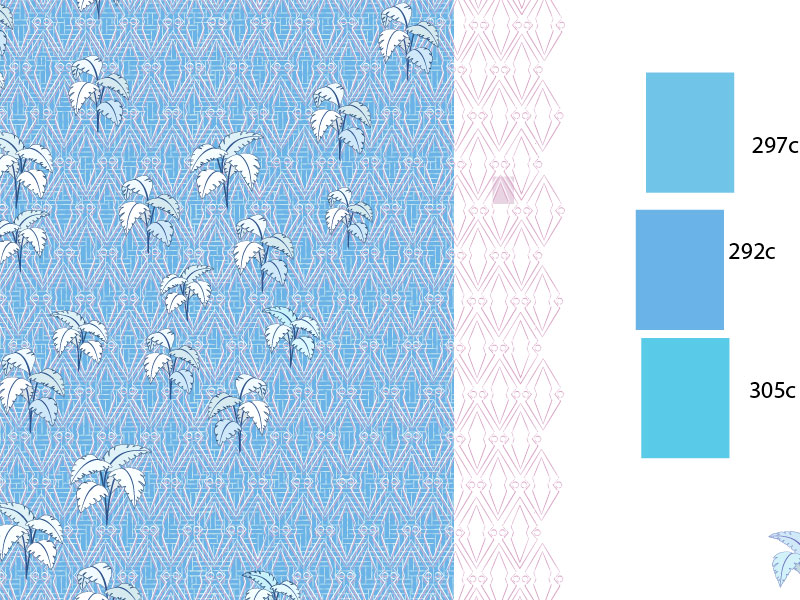 4. I made a copy of the diamond pattern, offset it, and set to changing it's colours. Pink was the last colour I chose thinking ew, this is definitely not going to work. You win pink. I think it adds a pop of subtle colour, and lessens the contrast of the palm stems. Done and done!
Let me know if you liked this pattern. I'm also interested in offering it as a wallpaper or furnishing print. I'd love to hear suggestions or comments : jazmin@seaspellapparel.com
You can check out how beautifully it works on my yoga leggings :