INSPIRATION FOR THE PRINT:
This mermaid pattern was inspired by mermaids in an art nouveau style. I love how the artist Alphonse Mucha frames the women he paints, and the mermaid needed to have some white space around her as she's so delicate.
I painted florals, shells and seahorses for the frame, with leaf-like shapes to make beautiful floral diamond garland.
Keep reading to see the step by step process & progress screenshots.
Here are some pieces I used as inspiration :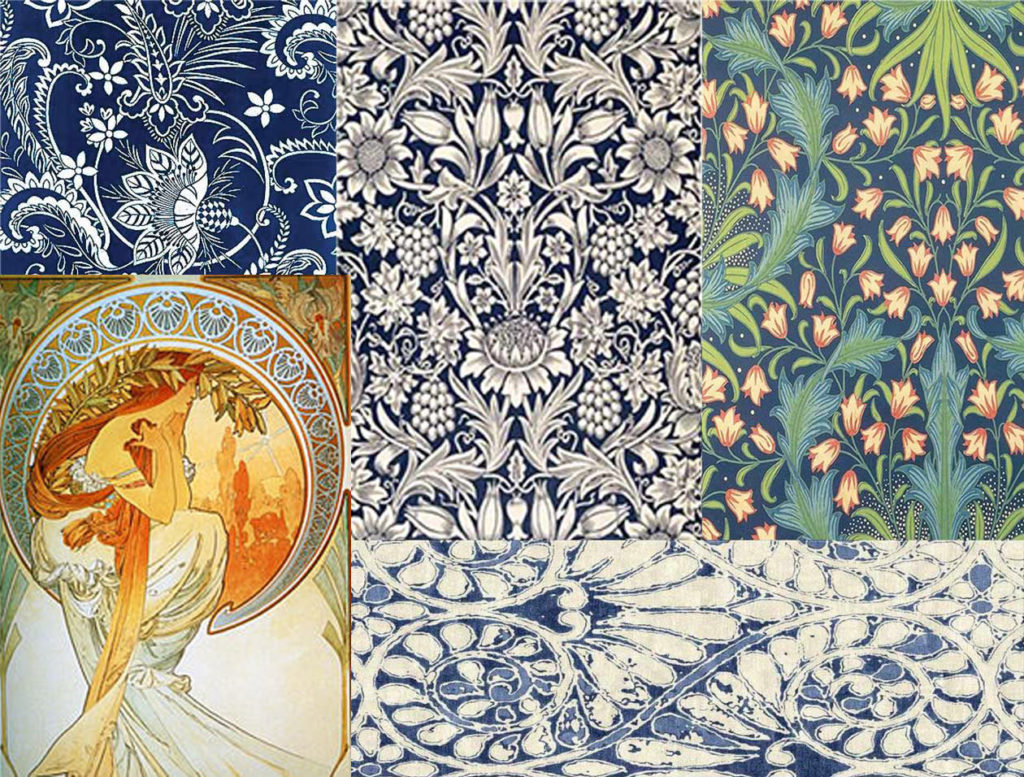 This pattern is my first detailed hand painted – to – digital piece. Read below as I chat about my processes & learnings of this type of work vs digitally created patterns!
Firstly, this was a piece that reminded me of what Liz Gilbert says of Tom Waits' song idea generation. He says some songs come ridiculously easy, while others are like prying old gum from under a table. You can read my full explanation of it here. (have a whole story/post of all the different types of patterns which have come hard/easy/medium to me). page 131 big magic.
This felt like a gum-prying session. The spacing was tricky, getting the shapes to work harmoniously was challenging, and I tried a LOT of different shapes to fill the empty spaces. Keep reading below if you're interested in how it all came together…
Or visit my shop to check out the print on this Crop Top : Siren Song Crop Top
HOW PRINT WAS MADE:
1. I sketched out the rough wreath shapes I wanted in Adobe Illustrator. I'd drawn this mermaid previously & have been itching to use her in a print! Here's that process…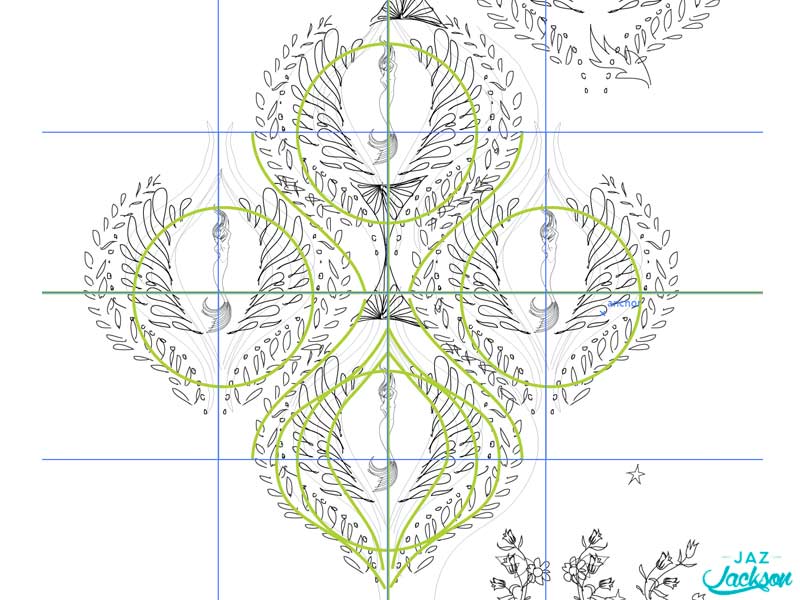 Once I saw how much space I had, I could create the actual shapes within the wreath – drawing them roughly with the pencil tool (aqua & blue shapes).
I added flowers, starfish and seahorses to fill the wreath.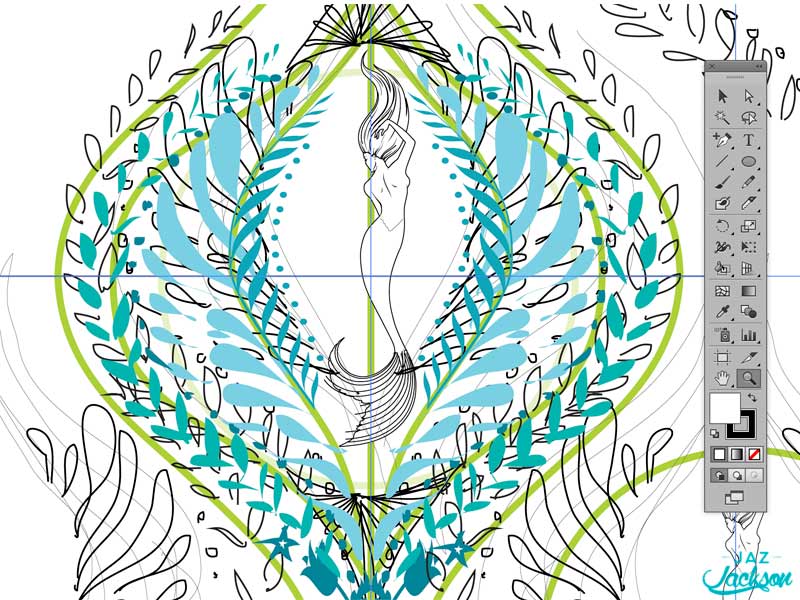 2. Here's where things start to come together. After bumbling around I finally created a working repeat.
3. To paint the design in watercolour & guache, I had to have a template of the elements to trace out onto paper & paint. As you'll notice, only half the wreath is here, which is because I don't need to paint both sides – just one to save time (I'll copy and mirror it digitally later).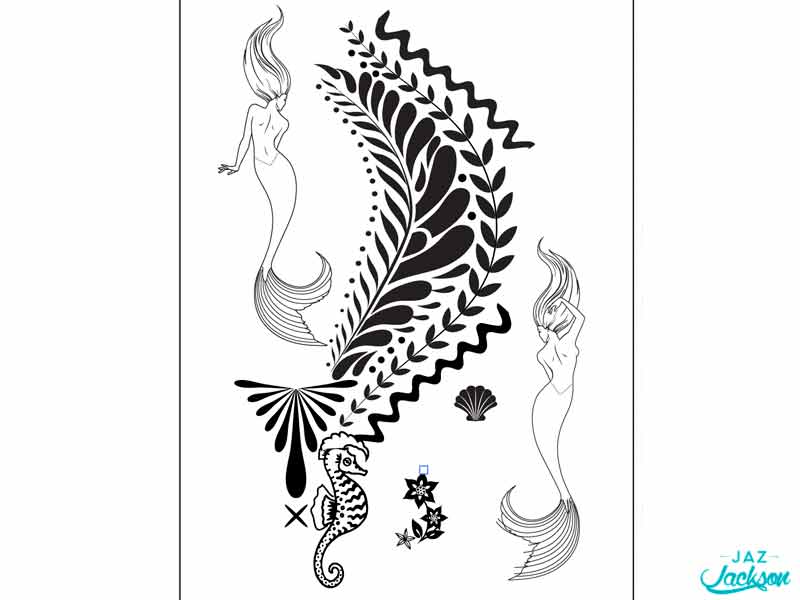 I used one colour throughout – a teal guache, very watered down to be watercolour-like.
4. I need this to be digitised, so I can work with the watercolour artwork on my computer digitally in my Adobe programs. I photographed the piece in 4 – 6 different parts, using a professional, high res camera, courtesy of my lovely Step Dad.
I've been told other artists do this process to digitise their work, so I was hoping it would work and come out clean & crisp. Previously, I'd always used my local printing & office supply shop!
5. To be sure this photography method worked, I printed my pattern piece out to check if the resolution was as clear as I thought.
Here's my reaction to the printed-out version at the local officeworks. A blurry, stupid mess. It would be even worse scaled bigger and printed on fabric, so there's no way I could have used this.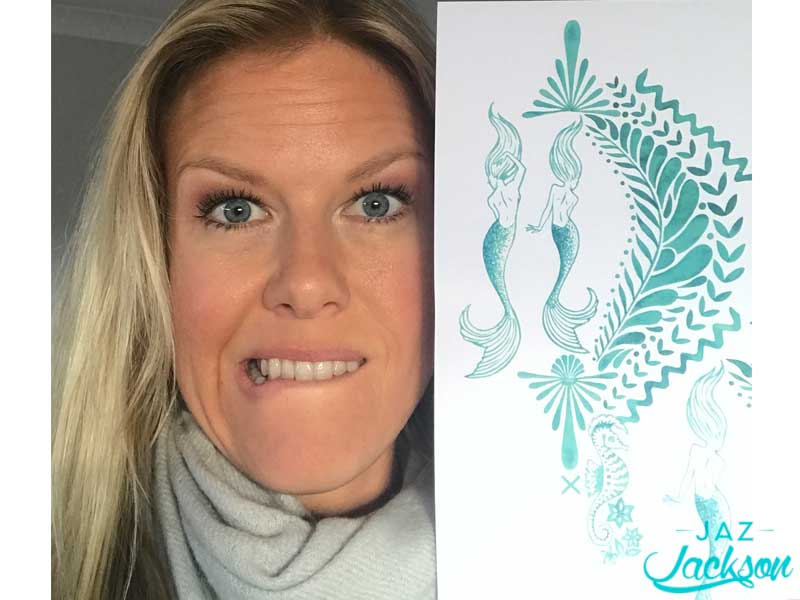 I found a local Archival Art Digitizer named David who is super knowledgable about everything scanny/arty/graphic designery. Here's the link to his site which has heeeaaps of useful info for artists!
6. After a week, I received my digital files back (gorgeously giant high res images, perfectly colour-matched and all on one page!). I set to work eliminating the white background. See below as I've pasted the digital files onto the original vector image.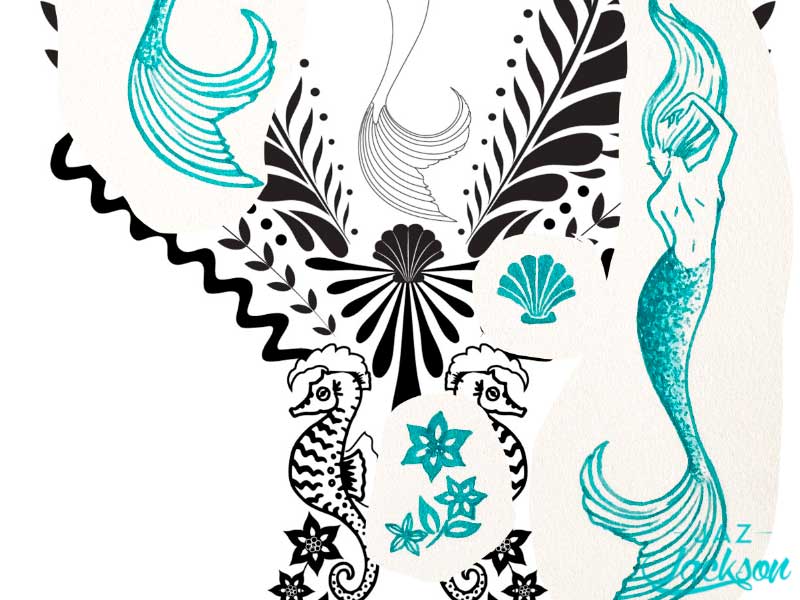 Oh, if you'd like to check out what I listen to when I'm doing on this sort of auto-pilot, not-have-to-think-a-bunch work, here's a list of audiobooks, songs & podcasts.
7. Anyway, I finally got the whole wreath put together, and started working on the repeat mermaid pattern. Here is the progress shot – with a lovely shade of mustard I needed to see for the contrast of the square of my repeat pattern tile :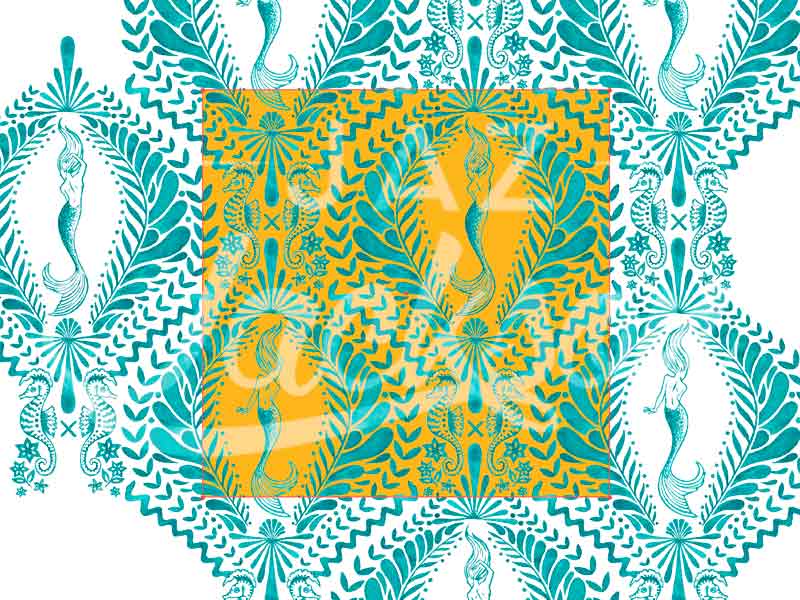 Here's the finished mermaid pattern! Phew, this has had a long life, but I have learnt sooo much!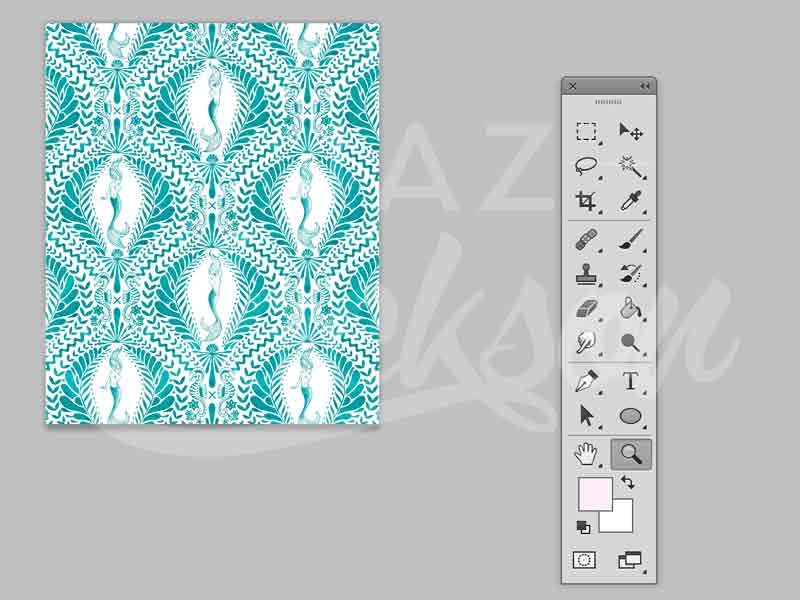 If you love this pattern as much as I do, check out my shop to take home your own mermaid pattern on a product, and check out my instagram page for different colourways in this pattern.
Thanks for reading!